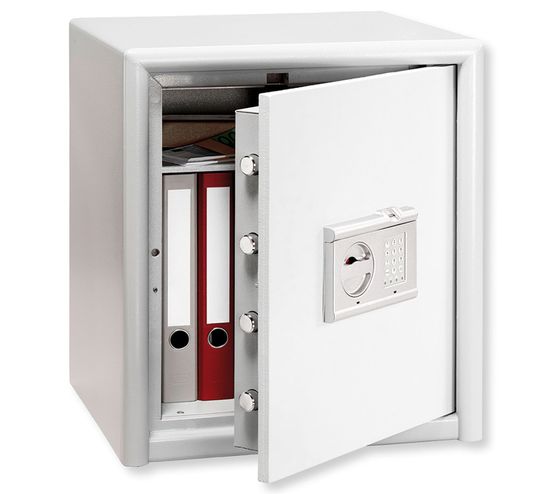 Combi Line CL 40FS

Digital & Finger Print Locking

445x380x297 (HxWxD) mm

560x495x445 (HxWxD) mm

50.00 ltr

77.00 kg

30 minutes

£4,000 Cash Rating (£40,000 Jewellery Rating)

Domestic

The Combi Line CL 40FS by Burg Wächter is an insurance approved safe certified by the Association of Insurance Surveyors for security rating.

The Combi Line CL 40FS by Burg Wächter is guaranteed maximum security properties according to European standards.
Delivery and installation includes base or back fixing to a ground floor location with suitable access or to an upper floor via a suitable lift. Upper floor delivery and installation via stairs price on request.
Please inform us of any parking restrictions that may apply to the delivery. A cancellation fee will be leveid to any aborted or cancelled delivery once confirmed.
Model
Int. Dimensions


(HxWxD) mm

Ext. Dimensions


(HxWxD) mm

Volume
Weight
Price


Inc. VAT

CL 10S
205x320x232
320x435x380
15.00 ltr.
44.00kg.

Now

£271.54
CL 10E
205x320x232
320x435x380
15.00 ltr.
44.00kg.

Now

£327.60
CL 20S
245x380x297
360x495x445
27.00 ltr.
55.00kg.

Now

£356.03
CL 10FS
205x320x232
320x435x380
15.00 ltr.
44.00kg.

Now

£384.08
CL 20E
245x380x297
360x495x445
27.00 ltr.
55.00kg.

Now

£412.43
CL 40S
445x380x297
560x495x445
50.00 ltr.
77.00kg.

Now

£460.78
CL 20FS
245x380x297
360x495x445
27.00 ltr.
55.00kg.

Now

£468.50
CL 40E
445x380x297
560x495x445
50.00 ltr.
77.00kg.

Now

£519.12
CL 40FS
445x380x297
560x495x445
50.00 ltr.
77.00kg.

Now

£574.17
CL 60S
694 x 380 x 297
820 x 495 x 445
78.00 ltr.
111.00kg.

Now

£669.90
CL 60E
694 x 380 x 297
820 x 495 x 445
78.00 ltr.
111.00kg.

Now

£725.00
CL 60FS
694 x 380 x 297
820 x 495 x 445
78.00 ltr.
111.00kg.

Now

£775.20