Frequently Asked Questions
How should I secure my safe?
Your safe should be secured in accordance to the manufacturers' recommendations. In the main, manufacturers tend to ask for their safes to be secured to a concrete base or, where that is not possible because of the construction of your home, then your safe should be secured to an external brick/solid wall.
If you are in doubt, then we would be pleased to help you work out the most secure location for your safe and this would be no trouble at all…
It's also worth knowing that if you are buying your safe to comply with your insurance company requirements, it's always best to check with them to let them know that you intend to secure your safe in compliance with the safe manufacturers' recommendations. Your insurance company will normally like to note this information.
If you are unsure, as one of our clients, we will always be happy to help you…we have over 30 years experience and we also do our own installations!
What are your delivery times?
It's useful to know that we carry a large range of safes and gun safes in our stock and warehouse. If you choose our Free Delivery Only Service, we aim to send you your item the next working day (when in stock) and within 5 working days when we have to send from our warehouse.
For any unforeseen reason or for your 'Bespoke/Special Order', which is likely to take a little longer than the 5 working days then, we will be pleased to contact you to help you with a more accurate lead-time for your item.
For our Free Delivery Only Service, we are pleased to confirm to you the 'Day of the Working Week' (you can select this day) and your delivery time slot will be between 8am and 5:30pm. If you want a more specific day and time, we will be pleased to give you a Personalised Quote and organise this additional service for you, it would be no trouble at all…
If you would like us to Deliver, Position and Install your security item - it would be our pleasure to do this for you. Our Logistics Manager Phil or one of our team, Mark, Chloe or Gail, will call you with a suggested day and time.
We are quite unique as we cover the entire UK with our own team for delivery and installation, and because of the varied logistical locations we always do our best to be as flexible as possible around your preference on specific days and specific times.
An additional part of our service, if you prefer and to help, we can call you around 30 mins before we are due to arrive so that you don't have to wait in all day for us. It's the little things that make a difference we feel…
We also can can offer a Delivery Only Service and Deliver, Position and Install to the Channel Islands, Isle of Mann and to some parts of Europe. Please ask us for your Personal Quotation… it's no trouble at all.
Can I collect my safe or gun cabinet from you?
Yes! Of course we would be pleased to see you and we can also assist by putting your item into your vehicle for you.
It is worth remembering though that some of our items can be quite bulky in shape and can be heavy too, so best to check that your vehicle is able to carry the weight of your item and that there is sufficient access (height, width and depth) within your vehicle to load and then unload your item when you get home. (Don't forget that spare pair of helping hands too!)
Where should I secure my safe or gun cabinet?
Ideally your safe should be secured as recommended by the manufacturer of the safe. This normally means your safe or gun cabinet should be secured to concrete as this is the best material to fix to. Another option for securing your safe could be to solid brick external wall or, we could make you a bespoke safe plinth for your safe to secured on and this metal/concrete plinth can then be secured to your floor.
In some instances, it's wise to 'dual fix' a safe or gun cabinet. This can be done by securing the safe from its base to your floor, and also by 'back fixing' your safe to your external wall (we'd remove a small piece of your skirting board to the exact width of your safe so your safe can sit flush with your wall and to give us a snug fit against your wall!)
If you are in doubt, then we would be pleased to help you work out the most secure location for your safe and this would be no trouble at all…
What does Cash Rating / Valuable Rating mean?
When a safe is designed by one of our reputable manufacturers, it will be designed to withstand a serious attack. Depending on how robust and difficult their safe has been during this 'Industry Standard Attack Test' this gives the manufacturer and safe its specific Cash/Valuable (Non-Cash Content) Rating.
Generally, the higher the Cash and Valuable Rating, the more secure and robust the safe becomes and consequently, the heavier, more secure and more expensive the safes become.
The security industry explains their Cash/Valuable Ratings in Eurogrades or Grade for short and the Valuable/Non-Cash Content Rating is 10 times the Cash Rating, eg. Cash Rating £6,000 = Valuable Rating £60,000 - Eurograde 0 /Grade 0)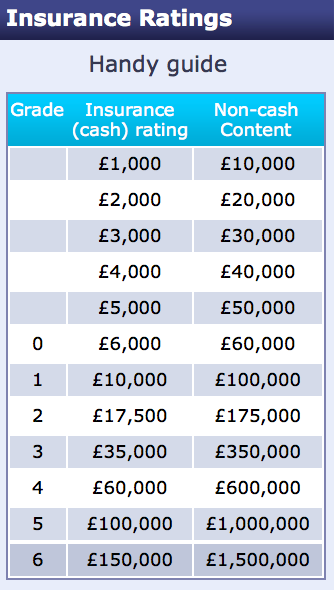 We also recommend our clients think about 'Future-Proofing' their safe. This means if your Valuables/Watches/Jewellery/Non-Cash Items are at the Eurograde level already, it potentially could make sense to opt for the next Eurograde level up. Our experience tells us that over time your valuables are likely to increase in value and, of course, you may also decide to add to your watch and jewellery collections! You really don't want your insurance company insisting you buy another safe!
We have been looking after clients for over 30 years, so we would be pleased to help you choose the correct Eurograde Safe to best meet your personal requirements, it would be our pleasure to help.
Contact us at 01543 268631 01543 268631 or email us at info@lichfieldsafecentre.co.uk if you have any other questions.