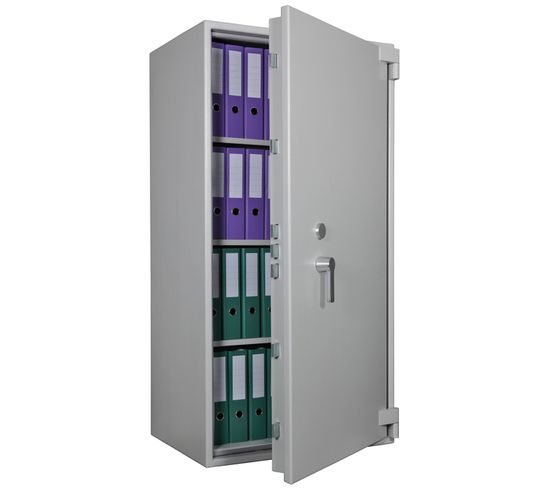 Euro Grade 2 2395

Key Locking

1399x680x415 (HxWxD) mm

1495x760x560 (HxWxD) mm

395.00 ltr

599.00 kg

30 minutes

£17,500 Cash Rating (£175,000 Jewellery Rating)

Commercial

The Euro Grade 2 2395 by Securikey is an insurance approved safe certified by the Association of Insurance Surveyors for security rating.

The Euro Grade 2 2395 by Securikey meets or exceeds the Police Preferred Specification of the Association of Chief Police Officers (ACPO).
Delivery and installation includes base or back fixing to a ground floor location with suitable access or to an upper floor via a suitable lift. Upper floor delivery and installation via stairs price on request.
Please inform us of any parking restrictions that may apply to the delivery. A cancellation fee will be leveid to any aborted or cancelled delivery once confirmed.
Model
Int. Dimensions


(HxWxD) mm

Ext. Dimensions


(HxWxD) mm

Volume
Weight
Price


Inc. VAT

2040
334x380x305
430x460x450
39.00 ltr.
137.00kg.

Now

£1,446.36
2070
509x455x305
605x535x450
71.00 ltr.
200.00kg.

Now

£1,706.46
2095
694x455x305
790x535x450
96.00 ltr.
247.00kg.

Now

£2,162.40
2175
864x530x385
960x610x530
176.00 ltr.
344.00kg.

Now

£2,819.52
2215
1044x530x385
1140x610x530
213.00 ltr.
397.00kg.

Now

£3,112.56
2285
1399x530x385
1495x610x530
285.00 ltr.
501.00kg.

Now

£3,508.56
2395
1399x680x415
1495x760x560
395.00 ltr.
599.00kg.

Now

£4,062.96
2440
1224x680x530
1320x760x675
441.00 ltr.
585.00kg.

Now

£4,093.91
2580
1754x760x435
1850x840x580
580.00 ltr.
768.00kg.

Now

£4,805.89
2845
1754x1110x435
1850x1190x580
847.00 ltr.
978.00kg.

Now

£7,369.23